«According to data from CNBC, 81 percent of stocks in the IBB with a market cap of more than $500 million are down more than 10 percent from 52-week highs, technically placing them in correction territory," reports Stephanie Yang for CNBC.
The $9.49 billion IBB is home to 145 stocks, but the fund's top 10 holdings combine for nearly 60% of its weight. IBB's top four holdings combine for nearly a third of the ETF's weight and in the case of IBB, which is a cap-weighted, downturns for the largest biotech stocks can mean trouble for the fund. IBB's top four holdings are Celgene (CELG), Amgen (AMGN), Gilead Sciences (GILD) and Regeneron Pharmaceuticals (REGN).
For traders with a taste and tolerance risk looking to bet on further downside for IBB, the newly minted ProShares UltraPro Short NASDAQ Biotechnology (ZBIO) is an idea to consider. ZBIO, which debuted in late June, attempts to deliver three times the daily inverse performance of the Nasdaq Biotech Index, IBB's underlying benchmark. [Don't Mess With the Leveraged Biotech Bull]
Gven the lofty year-to-year returns, some are growing cautious over the biotech sector. Some argue that the high valuations in the biotech sector have been supported by a low interest rate environment. However, with the Federal Reserve eying an interest rate hike, biotechs may be more vulnerable ahead.
In what is a troubling sign for IBB in the near-term, the ETF is off almost 2% over the past four months despite each of its top four holdings trading higher over that period. Amgen, Celgen and Regeneron have each posted gains of roughly 9% over that span.
iShares Nasdaq Biotechnology ETF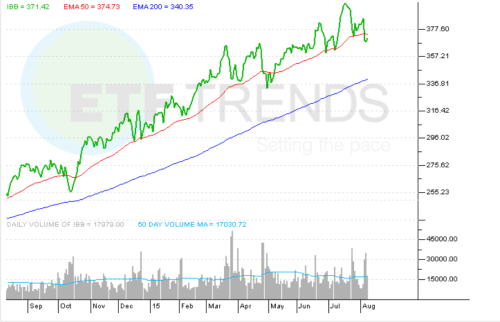 The opinions and forecasts expressed herein are solely those of Tom Lydon, and may not actually come to pass. Information on this site should not be used or construed as an offer to sell, a solicitation of an offer to buy, or a recommendation for any product.
http://finance.yahoo.com/news/biotech-etfs-try-fend-off-130035585.html